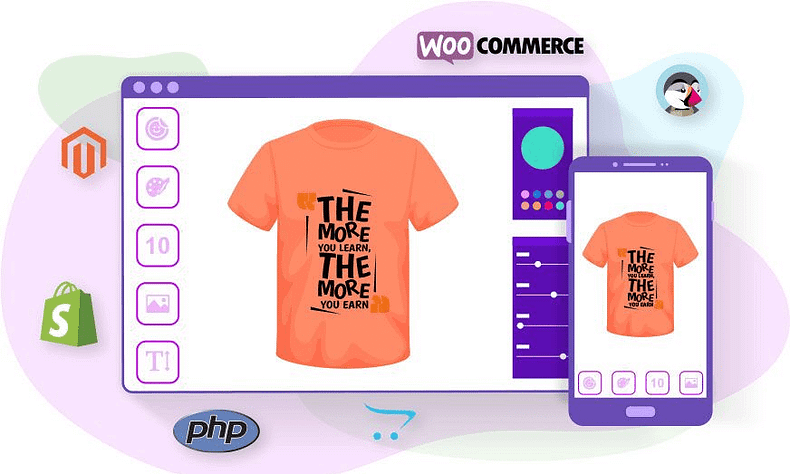 Every e-commerce company wants to differentiate itself from the competition. One of the best ways to do that is by personalizing products to suit the customer's needs. Businesses can offer a personalized shopping experience and deliver products exactly as the customers picture them thanks to Magento's product designer tools.
However, integrating a product designer tool seamlessly with Magento is more difficult than it seems. Businesses need to keep several things in mind to ensure a successful integration.
Here in this blog, we have listed the top 9 tips that ensure you are investing in an optimum Magento product designer tool.
Need for Magento Product Designer
Your online store can benefit greatly from a Magento product designer tool. Customers can personalize products to their tastes, offering a distinctive and distinctive experience. This boosts client satisfaction and establishes your brand as one that values distinctiveness and attention to detail.
A product designer tool can help you expand the selection of goods you can sell in your Magento store by enabling you to sell specialized apparel, accessories, and promotional items. This can distinguish you from your rivals and raise the possibility of repeat business.
The ability to streamline the production process is another benefit of a product designer tool. By allowing customers to design their products, you can eliminate the need for manual design work and accelerate order fulfillment. Due to the lack of additional design resources needed, this can also reduce costs.
There are several important factors to consider when choosing a product designer tool. These include features like design templates, image uploads, customization options, ease of use, compatibility with Magento, pricing, and support. You can choose the ideal product designer tool that satisfies your business requirements and offers your customers a seamless experience by carefully considering the given factors.
Consideration #1: Does the Magento Product Designer Tool User Experience?
We live in a world that values speed and ease of use, so when businesses consider integrating a Magento product designer tool, user experience should be a key factor. To ensure customers can quickly and easily create and customize products, the designer tool must load quickly and feature an intuitive user interface.
Additionally, the product designer should be optimized for speed and efficient performance and integrate seamlessly with Magento. If a business can guarantee a great user experience with the product designer tool, it will surely increase customer satisfaction, leading to more loyal customers and repeat business.
Consideration #2: Is it Cost-Effective?
When assessing a Magento product designer tool, it's critical to consider the cost in addition to the user experience. Always try to choose a product designer tool that is affordable for the business while still providing the features and functionality you need.
Finding a top-notch Magento product designer who can be quickly implemented cheaply is possible. Businesses should evaluate their needs and available resources before investing, then choose the product designer tool that best fits those needs.
Businesses can have a successful Magento product designer by considering these factors and getting the best return on their investment.
Consideration #3: Can it Manage Large Order Volumes?
When selecting a product designer tool to integrate with Magento, it is important to assess its capacity to handle large volumes of orders. An efficient Magento product designer tool should be able to quickly and accurately manage customer designs with minimal loading times and data errors.
It should be designed with scalability in mind and able to meet the demand of a large customer base with the capacity to expand as orders grow. Moreover, an effective Magento product designer tool should allow businesses to track order history, update inventory in real time, and receive comprehensive analytics and reports for better customer insights.
Consideration #4: Does the Product Designer Offer Customization Options?
We live in an age where personalization is key – and the product designer tool should reflect that. Customers should be allowed to customize their products by uploading images, picking from a graphics library, adding text, or playing around with colour.
Customization at its best provides the best user experience and customer satisfaction. With huge customization options customers stay loyal to you for years and even will be willing to pay extra bucks for additional features.
Consideration #5: Does it Offer Real-time 3D Visualization?
Having the right product design tool can make a huge difference in customer satisfaction. Therefore, businesses must consider whether it offers real-time 3D visualization when shopping for such a tool. With this feature, customers can understand how the end product will look and make changes accordingly.
Real-time 3D visualization ensures customers are confident with their orders and have no surprises upon delivery. Being able to preview a product before committing goes a long way in building trust between the customer and the business.
Consideration #6: What Type of Product Templates Are Available?
Templates are very helpful because they give customers a foundation to design their products. Customers have a wide range of options due to the availability of numerous templates. Templates can include pre-made logos, fonts, and generic artwork that clients can customize to fit their distinctive designs.
Your product designer integration will be finished with the appropriate templates, and your customers will enjoy a wonderful and user-friendly experience.
Consideration #7: How scalable is the product designer tool?
Businesses should look for a highly scalable product designer tool to handle a large number of concurrent users. The tool should cope with heavy traffic and changing demands, providing an excellent customer experience as the business grows. Selecting a tool designed to scale ensures that the product designer can serve the business's needs well into the future.
Consideration #8: Is it Scalable for Future Updates?
When choosing a web-to-print partner, you must consider scalability and flexibility regarding updates. Your chosen solution should comply with Magento 2, the latest version of the eCommerce platform.
Furthermore, you should understand what services your web-to-print partner can provide to ensure a smooth transition for future updates or changes to the platform. It's important to have a scalable and flexible solution for any potential changes that could arise.
Consideration #9: Data Analytics and Reporting
Before investing, companies should evaluate Magento's data analytics and reporting tools. Analyzing client behaviour and preferences improves product customization, increasing conversion rates and revenue.
Real-time sales and product-specific revenue reporting help organizations learn how their product designer tool affects sales and revenue. This helps with pricing, promotion, and marketing. Exporting data to interact with other reporting systems helps companies understand customer behaviour and preferences and guide product development and marketing.
Your Search for the Best Magento Product Designer Tool Ends Here
If you're looking for the best Magento product designer tool that fulfills all the above considerations, your search ends with Brush Your Ideas. This powerful tool offers many customization options and is easy for businesses and customers. With its intuitive design and robust feature set, Brush Your Ideas stands out as a top choice for businesses of all sizes.
Moreover, Brush Your Ideas offers multi-language support, seamless integration with Magento checkout, and advanced data analytics and reporting capabilities. You can also customize the tool to fit your brand and business needs, and it comes with regular upgrades and improvements to keep up with changing trends and customer needs.
In conclusion, Brush Your Ideas is a comprehensive Magento product designer tool that provides all the features and functionalities needed to succeed in today's competitive ecommerce landscape.