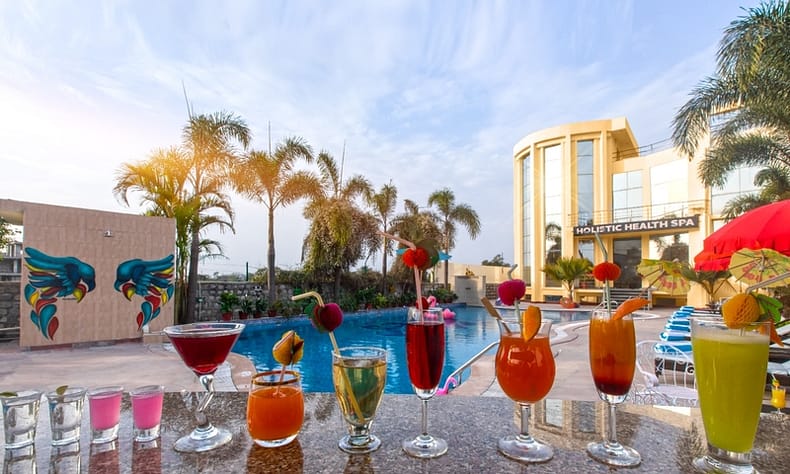 Nestled amongst the holy Ganges River and the majestic Himalayas, Rishikesh is an incomparable paradise, where the enchantment of cultural heritage meets the thrill of adventure sports. This spectacular city in Uttarakhand is famous around the world for its remarkable natural beauty and abundant opportunities for extreme activities, while also being known as the global capital of yoga and a favored destination for Hindu pilgrims and spiritual seekers. It's why Rishikesh is known as 'the adventure sports capital of India' and 'the yoga capital of the world' – and it won't take long for first-timers to see why.
Question – Why Rishikesh Resorts?
Answer – Because they provide the opportunity to
Visit Places like
Ram Jhula and Lakshman Jhula
Be sure to check out the famous Ram and Lakshman Jhula – two iconic iron suspension bridges named after Lord Rama and Lakshmana. While the Sivananda Ashram and Swargashram spiritual sites are connected by the Ram Jhula, the 284 ft long Lakshman Jhula links the Pauri district with the Tehri district of Uttarakhand. These bridges were originally made of jute ropes but were rebuilt as modern bridges after the flood of 1924.
Neelkanth Mahadev Temple
The Neelkanth Mahadeva Temple is one of the most captivating places of worship dedicated to the Hindu God Shiva (also known as Mahadeva). Overlooking the breathtaking view of the Nar Narayan Mountain Range at an altitude of 1330 m above sea level, this temple is a challenging yet incredible trek. Besides the stunning outer carvings and murals, the sacred Shivalinga shrine within the temple makes the journey all the more worthwhile. So, if you are looking for an adventurous spiritual experience, the Neelkanth Mahadeva Temple is the perfect spot for you!
Also Read: 15 Top-Ranked Places to Visit in Australia
Sri Bharat Mandir
Shri Bharat Mandir stands tall as one of the most revered and historic temples of the city, solely dedicated to Lord Hrishikesh Narayan. This magnificent structure is steeped in mythical tales and legends that add to its charm and allure. According to one tale, even the Pandavas themselves once visited this temple during their journey to paradise and offered prayers to Lord Hrishikesh. Another fascinating account states that the temple was transformed into a monastery when Lord Buddha graced it with his presence in the past. Isn't it incredible that this temple has witnessed such significant moments in history?
The Beatles Ashram
If you're looking for a truly magical experience in Rishikesh, look no further than the Beatles Ashram. Located just 18 kilometers from the city center, this destination is a must-visit for anyone interested in Indian spirituality, history, and music. The Beatles' famous visit to the ashram to practice transcendental meditation transformed the world's view of Indian spirituality forever. Their stay at the ashram was a prolific time for the band, as they composed some of their most famous and cherished songs, making it an essential destination for music lovers as well.
Triveni Ghat
It is one of Rishikesh's most well-known ghats and a lovely location to view the nightly Ganga Aarti. The spiritual significance of the Ghat comes from it being the place where Ganga, Yamuna and Saraswati rivers meet. (According to Folklore)
The ghat is revered, and according to Hindu legend, a bath in the holy Ganga water close to the ghat may wash away all of your sins. Both Ramayana and Mahabharata reference the Triveni Ghat.
Do things like
River Rafting
Embark on an unforgettable journey with river rafting in Rishikesh! Take a thrilling ride through the rapids of the Ganges and explore the beauty of the Himalayan foothills. Enjoy the adrenaline-filled activity all adults can engage in, best experienced during the summers and the monsoon.
Bungee Jumping
Give a treat to that adventure junkie within you with the thrilling activity of bungee jumping. Leap over a high structure or cliff while wearing a rope harness to experience the exhilaration of falling freely through the air for a while.
Camping
Unearth the hidden marvels of Rishikesh with a camping escapade! Plunge into the tranquil surroundings of the Himalayan foothills, taking in the breathtaking views of nature while camping. Make your trip even more memorable by taking a tour guide.
Ganga Aarti
Experience something truly unique and special during your visit to Rishikesh – the Ganga Aarti Ceremony. Watch as flowers and divas (earthen oil lamps) are offered to Ganga and floated down the river in a mesmerizing display of devotion.
Take a Bike Tour of the Town
Hop onto a bike along with your friends and experience the beauty that the mountainous terrain of Rishikesh has to offer. Rent a bike to tour the town or explore the river and woodland paths as you won't feel exhausted or lightheaded thanks to the cold, fresh wind gently caressing your face.
Enjoy tasty and varied Food and Beverages
Treat yourself to the best vegetarian meals and drinks in Rishikesh! Visit one of the many street food vendors in the city to try some of the regional cuisines and a variety of delicacies including Kachori, Aloo Tikki, Chaat, and Samosa along with the authentic "Cutting Chai". With its spiritual atmosphere, you can always count on finding alcohol-free beverages whenever you hang out in Rishikesh. Now, you can blissfully while away the hours while socializing with locals, getting to know their culture, life, and stories. Don't forget that you can also get some perfect Instagram photos at iconic Cafes.
And of course, Yoga and Spiritualism
Escape to Rishikesh and traverse into the spiritual realms of Hindu culture, allowing yourself to be enchanted by the beauty and divinity of the holy town. Embark on a journey of self-connection as you attend meditation courses and experience ayurvedic therapy, helping to transform you into a better version of yourself. Give yourself the rest that you have been looking for a long time. Stretch your stay for weeks or months, depending on your course length, as you learn cool yoga techniques to reduce stress and make new friends, or simply fill your time with Satsang (spiritual talks) to understand life and culture. Rishikesh is certain to leave lasting memories, and maybe even change your life in a positive way.
Conclusion
Resorts in Rishikesh are renowned for offering a unique blend of authentic luxury, spiritual beauty, and nature. It is home to many like the Neeraj River Forest resort, Aloha on the Ganges, Arogyadham retreat, and many more which are located in lush greenery to help you relax and take in the Nature which God has so beautifully created. These places offer a tranquil environment, serene ambience and clean air that allows for the perfect setting for meditation and rejuvenation while also providing a wide range of family-friendly activities so that parents and children can have a good time. Furthermore, these places are a haven for they provide a variety of traditional Indian meals and foreign cuisines with vegetarian and non-vegetarian alternatives. They also provide guests with the chance to do all of the fun things that are mentioned above so that each and every guest may experience what it's like to experience fun, peace and luxury at its best.