Shopping for your fitness-obsessed bestie can be tricky because it might seem like they already have it all—especially if they are really into a particular niche sport or fitness activity. It gets even more challenging if you aren't knowledgeable about a particular sport or activity. Where to begin?
If you're feeling stumped on new giftable items, don't worry, we have you covered. Here is our latest list of sports and athletic gift ideas that are perfect for a fitness lifestyle on any budget.
Sport-Specific Equipment
If your friend is really into a specific sport, consider doing some research on additional equipment they may need. Maybe they already have all the basics and wouldn't mind leveling up that old pickleball gear they bought years ago. This is especially true for niche sports where quality gear can be difficult to come by (think table tennis, figure skating, disc golf, bowling, etc.).
Here's our list of potential sport-specific equipment you could gift your friend:
New gloves, footwear, or laces.
Replacement items for training and practice, such as balls, tape, and grips.
Specific practice items they may not splurge on themselves, like weights or a ropeless jump rope.
Keep in mind that some equipment can be very size-specific and is best suited when the user tries it on. If you are unsure of the size or type of equipment that would be appreciated, a gift card or a professional consultation at a sports shop could be your best bet.
A Customized Care Package
IMG URL: https://pixabay.com/photos/body-people-lifestyle-person-2703420/
"No pain, no gain."
Every workout or training session comes with a bit of pain and recovery. Some sports are particularly hard on your feet while others require repetitive motion that may cause muscle strain. Unfortunately, many athletes neglect their post-training recovery because it's expensive, easy to overlook, and too time-consuming to indulge in self-care.
Create a care package by combining a few of these items to make a customized basket to help your favorite athlete rest and recharge for the next practice or big game:
Gift a deep tissue massage gun or spa day gift card.
Foot care package (bath salts, foot bath accessories, a pedicure, athlete's foot items, or foot wart solutions).
Gift a free consultation with a sports therapist.
These gifts are great because you could give them to any friend or almost any age, and they can be easily customized to suit your friend's activity, taste, and style.
Durable Athletic Clothing
When your friend is in training, they might fall into the common rut of wearing the same practice gear and athletic clothing over and over, again and again. You might notice your friend's favorite sports items are getting worn out, ripped, and faded. Take note!
Shop for something they wouldn't purchase for themselves, such as a brand-name hoodie, personalized team jersey, or innovative sports apparel. Observe what they wear when they practice and surprise them with the newest release or something brand new! Here's what we're thinking:
Team-specific gear in more than one style for different weather conditions.
Weather-resistant or moisture-wicking gear for outdoor sports.
High-end footwear, underlayers, or specialty footwear, like essential bamboo toe socks.
If you are subtle, you could casually ask your friend ahead of time what they wish they had in their wardrobe that isn't there yet and put that in your back pocket for the next holiday season or birthday surprise!
Sports Tech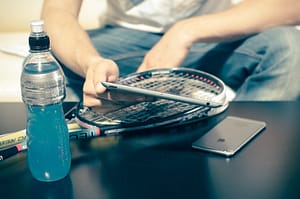 IMG credit URL: https://pixabay.com/photos/squash-sport-man-game-racket-ball-793062/
There seems to be an app for every sport under the sun no matter how obscure or uncommon it is. From personalized online journals to virtual coaching, sports apps, and related technology are big right now. Like any other subscription-based industry, those monthly payments and virtual session fees can add up quickly.
Perhaps your friend would love some personalized lessons to help them train for the next big game or goal. There are several subscription-based services that your buddy might not think to take advantage of on their own.
Here are a few examples of sports tech gifts you don't want your friend to miss out on:
Personal training or coach online package or trial session.
Subscription to informative online resources and sport-specific reading.
A techie swivel camera to help your friend record all those amazing moves.
Items like Fitbits or other fitness trackers can be great too depending on the sport. There are apps to line up your best golf shot, learn specialized choreography, and even track your daily activity, so have fun exploring!
Memorabilia
Never underestimate the power of the perfect memorabilia. True sports fans often collect items like sports card boxes, team jerseys, signed game items, and more. If your friend is deep into a sport and has a favorite player or team, it's worth seeking out some sports memorabilia that they may not have splurged on themselves.
An autographed photo, ball, or jersey might be the perfect thing.
Find a one-of-a-kind obscure card or game ticket and frame it for your friend to display in their home.
Gift your friend a professional photography session and catch them in action so they can have some pictures of their own.
These gifts are great crowd-pleasers, and they show you took the time and effort to seek out something extra special to give.
Big Sports Events, Game Tickets, and More!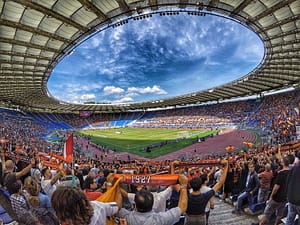 IMG credit URL: https://pixabay.com/photos/stadium-football-turf-rome-2791693/
When you're passionate about a sport or lifestyle activity, sometimes you need to go right to the pros! There are endless opportunities for a wow factor that your friend will never forget. Do some research ahead of time and find out when the season opener is, where the elite athletes are performing, or where the next big convention is, and make it an unforgettable gift or even a whole-weekend getaway for them!
Help your friend get tickets to the next big event or game coming into town—sometimes you can even find a package through hotels and resorts that include game or event tickets.
Find your buddy a season's pass complete with matching jerseys.
Gift an entry into a sports convention or event so your friend can research the latest and greatest developments in the sport.
When it comes to game day or the next season, they'll be ready!
All the Accessories
Sometimes it's the little touches that count! From wristbands to hair ties, try to think of all the extra items that your friend would find useful for training. The options are endless. Hand or foot warmers for the bleachers or bench? Tights for studio practice? Leg warmers? Here are a handful of other items that your friend is going to love!
Anything customizable from water bottles to embroidered headbands.
Bumper stickers for their car or laptop to show their love of the sport to the world.
A necklace or bracelet with their sport of choice engraved or displayed as a charm.
The options are endless so put some of these ideas in your back pocket as a token of your admiration for their big win or accomplishment. There are so many ways to show your friend that you support their fitness goals so get shopping for that perfect sporty gift!