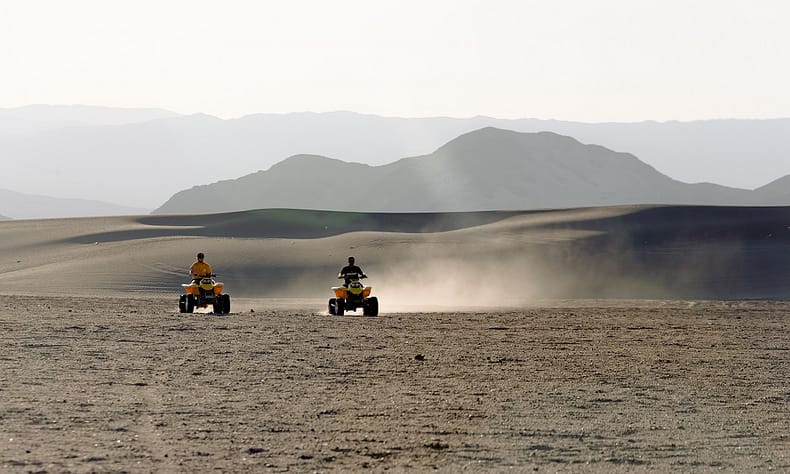 For the first time, buying an all-terrain vehicle, or ATV might be a bit intimidating. Whether you're buying it for functionality or fun, there are things you should know before purchasing an ATV if you've never done it before. There are also tips you should know as a new owner and particular mistakes you should avoid whenever possible.
5 Things You Should Know Before You Buy Your First ATV
Deciding to get an ATV is one thing. Actually choosing one is another. There are certain factors to consider if you're getting one for the first time in your life.
Look for Easy Handling: An ATV can be hard to control unless you find one that's easier than others. A model that is small and light should be easier to steer. You can further simplify your learning process with automatic transmissions and throttle limiters.
Think About the Kind of Riding You Will Do: Endurance riding should feature a comfortable seating position to prevent muscle soreness and aching goings. Hunting riding needs higher ground clearance to get over obstacles but also storage for weapons and gear. Recreational riding requires agility, such as turning tight corners and maneuvering on winding trails.
Emphasize a Lower Possible Power: If it's your first ATV ever, then consider getting something with a lower speed potential. Less powerful engines are usually the better call here. Getting something more powerful than is warranted for your skill level might be dangerous. Consider a ceiling of 250cc models until you are getting your second or later ATV. Once your skills are more developed, you can opt for higher power and more adrenaline.
Learn the Brand Names: Some brands are known for quality, and others have a good reputation for value. Other brands might not be as renowned. One advantage of sticking with a known brand is that might be easier to find ATV parts if you ever need to replace a broken piece.
Look Into Used ATVs: If you want a new model, then by all means get one. At least look at some used ones just so you know what kind of value is there. Not only are they cheaper, but you won't feel as bad if they get banged up while you learn how to ride.
5 Tips for New ATV Owners
Once you get your first ATV, you need to do the right things as a first-time owner.
File the Right Paperwork: This is something that Geico advocates for. Rules change from one state to the next, but you might need registration, insurance, and even a permit for your ATV.
Keep the Vehicle Safe: As much as you need to protect yourself while riding an ATV, you need to keep the vehicle secure as well. ATV theft happens a lot.
Get Around: If you buy an ATV for recreational use and get accustomed to it, then start visiting trails and parks near and far. The United States has a lot of great ATV travel experiences you can enjoy as day trips, weekend getaways, or even full vacations.
Maintenance Matters: Keep your ATV as well-maintained as you do your passenger vehicles. Check the fluids, tighten the lug nuts, and check air filters and other parts.
Read the Manual: It's your best source of information about your vehicle. Keep it in your glove compartment. Putting it inside a plastic bag first is a smart move.
5 Mistakes to Avoid
As eager as you might be to get your ATV going, you need to pace yourself. Knowing the right steps makes it possible to actually take them. However, there are also mistakes you want to avoid at the same time.
It's Not a Car: No matter how experienced or safe you are at operating a passenger vehicle, you need to remember that an ATV is a very different thing to handle. Just because both have four wheels doesn't mean they're the same. Regardless of your experience with other vehicles, even motorcycles or dirt bikes, you're going to have a totally new learning curve here.
Loading: Never ride your ATV up the ramp into the back of a truck. You can watch videos online about how to load and unload it right. You can also watch videos of people that did ride the ramp and see for yourself why you wouldn't want to repeat their mistakes.
Overconfidence: Wear protective equipment. Your ATV doesn't have a seatbelt. It's up to you to wear the right boots, gloves, goggles, and helmets. In some cases, you might also want neck and knee braces and a chest protector.
Rolling Over: You might think it's hard to do this on something with four wheels, but it's a lot easier to do than you think. Hitting the gas too hard can do it if you're not familiar with an ATV's power. Sliding around in the mud and other wet conditions might be another case where the ATV grips the ground and you fly off or even under the ATV.
Throttle Control: Anyone who gets on an ATV wants to get racing as soon as they can. Jabbing the throttle can mean looping out and landing under the vehicle or just hitting a tree. Ride the thing a while before you get used to the throttle and how to use it appropriately.
For some, an ATV is nothing more than another tool they use to handle certain tasks around their property, be it security patrols on a corporate campus or just handling projects on undeveloped parts of their ranch or farm. In other cases, an ATV is a toy meant for weekend fun and getting truly off the beaten path. In either case, you need to know certain things before buying your first one, including ownership tips and mistakes to avoid.