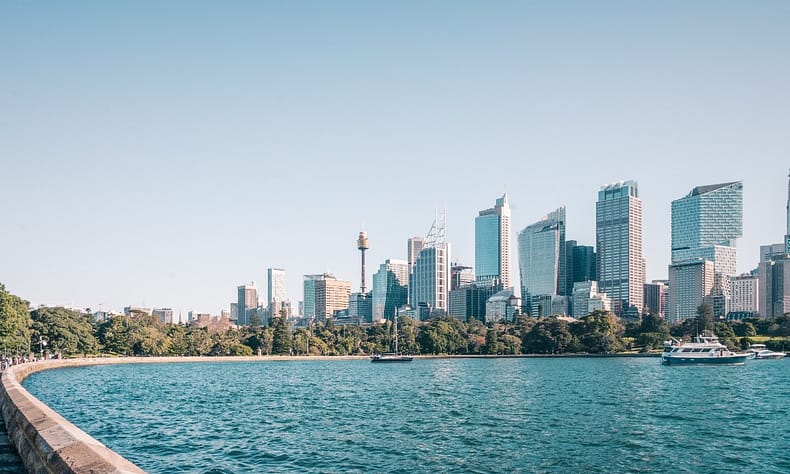 Australia is one of the world's contents, loaded with tons of beauty and culture. The place is popular for one of the unforgettable myths of Aboriginal dream time that believed in conjuring the forests and other mountainous areas with spirits. Moreover, this prior colony abounded with nature's gifts and has been one of the most popular tourist attractions for decades. The national parks, the Great Barrier Reef and wildlife, are some of the most popular attractions that are rare in other places besides Australia. Other than that, there are some of the places to visit in Australia that are worth travelling that you can look forward to during your trip to this country.
1: The Great Barrier Reef:
An island abounded and surrounded by living organisms is a place to enjoy and witness nature. It is one of the eight wonders of the world. It's worth a look, especially when you love it diving and snorkeling. The Great Barrier Reef is a vast network of more than 2,900 coral reefs and hundreds of islands. It is one of the most complex ecosystems and is the colony of millions of living organisms created millions of years ago/
2: Sydney:
: A city like Sydney usually comes first in mind when considering places to visit in Australia. Sydney is well known for its breathtaking scenery and exhilarating activities. The Sydney Opera House and Harbor Bridge, two of the most recognizable landmarks in the world, are among her aesthetically stunning buildings. Island sanctuaries only break up her dazzling harbors. If you're coming for the gorgeous beaches, we advise staying for the dining, the culture, and the positive attitudes.
3: Kakadu National Park:
The Kakadu National Park was inhabited by Aboriginal people for almost 40,000 years and is a great example of the ancient culture of the people living there. It is a place with great cultural and ecological importance. The Kakadu Escarpment is one of the park's most beautiful natural features and overall, the park is worth visiting because of its size and stunning natural scenery.
With various ecosystems within the park's boundaries, you can spend time swimming in waterfalls and before learning about it, swimming one minute and clambering over deserted sandstone cliffs the next some ancient rock drawings. Even though Kakadu can become very crowded, you can easily enjoy the park's amenities in peace and quiet if you venture off the usual path.
4: Brisbane:
Brisbane is another place to visit in Australia, which is dynamic in culture. With a population of almost 2 million, it ranks third in size among Australian cities, behind Sydney and Melbourne. Many tourists stop by on their route to the magnificent resorts and beaches that are located to its north and south, which are both located in the Sunshine State.
You can choose from various outdoor sports, with bicycling, climbing, and hiking standing out, thanks to Brisbane's great climate and location along the Brisbane River. Brisbane is a joyful and welcoming city, and its thriving music culture has elevated it to the status of one of the music capitals of the world.
5: Kangaroo Island:
On Kangaroo Island, nature is the main attraction. You and found animals like koala and Kangaroo here., for which a country like Australia is famous. Diving is also quite good. You may dive shipwrecks and spot sea dragons in the temperate waters off the island's coast. Explore extensive cave networks. On picturesque hiking trails along high sea cliffs and virgin woodlands, you may explore towering dunes and search for animals.
6: Tasmania:
Even though Tasmania is an island state that is cut off from the rest of the country but still is one of the worthy places; exploring its land is just Fascinating with its barren nature, green alpine plateaus, magnificent beaches, waterfalls, and woods. Its rocky coast is equally gratifying for a boat ride, and you may even encounter dolphins, penguins, and seals along the route. Eating and drinking in Hobart, the capital of Tasmania, is an incredible delight because of the abundance of excellent local produce and the exquisite restaurants and bars. Additionally, the island holds a wide variety of fantastic festivals annually.
7: Melbourne City:
Melbourne just like Sydney is famous and populous country. Melbourne, regarded as the country's cultural capital and a major port, is situated close to Australia's southeast point on the sizable natural harbor of Port Phillip. The place's cuisine, the neighborhood, everything speaks of the city's diversity. The City Center neighborhood of Melbourne has the most points of interest, including the Flinders Street Railway Station, the city's most famous monument. You can book the resort in this beautifully diverse city by looking for online options, which would help you avail of various deals and discounts. You can use Mercury Holidays discount codes to book your resort at an affordable price. Moreover, a well- liked gathering place is the array of clocks that hang over the station's entrance from the Edwardian era is a treat to see.
8: Whitsunday Islands:
The Whitsunday Islands is a sheer beauty in itself. Since most of the archipelago is contained within National Parks As it is a part of the Great Barrier Reef, there are breathtaking views and breathtaking views beaches everywhere. Whitsunday is a great location for snorkeling and scuba diving because of the wealth of underwater treasures and vibrant coral reefs. The Whitsunday Islands are famous for their stunning natural beauty, but they are also remarkably home to some of the oldest Aboriginal communities.
Conclusion:
Australia, as a part of the western world, is loaded with cultural diversity and many amazing, hospitable and friendly people. Other than that, it's wildlife and some of the worth sightseeing places in the country or the city. Hence, the country can be on your bucket list for many good reasons.
Author Bio: Louie Davis is a content marketer who works for Affiliate Marketing – Discount and Voucher Codes Providing Platform. A writer by day and a reader by night; He is striving to make the most of the new opportunities that comes in his way and excels in everything he does.