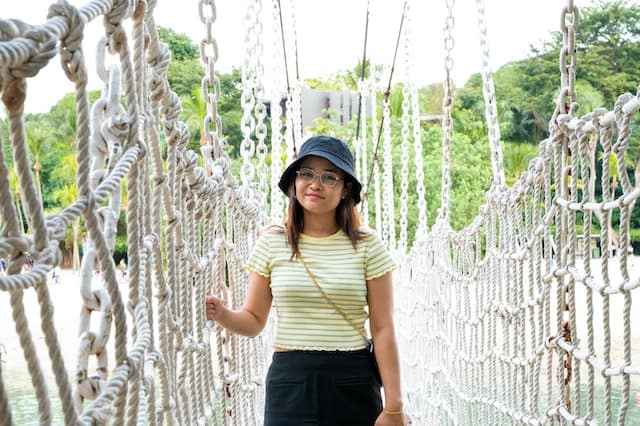 Whether you're planning a solo trip to the far-located modern city or a nearby picturesque island, there are always a few things that can help you make the most of your time. As a solo female traveler, you'll want to know the basics of travel to get around and avoid any problems. You'll also have a chance to meet locals and fellow travelers. You'll want to make sure you are comfortable traveling by yourself and confident enough to approach strangers to introduce yourself and share your travel experiences.
Traveling alone can be an empowering experience that will allow you to know yourself and your surroundings better. If you are looking for a solo trip to some isolated and less-crowded place covered by beautiful nature where you can have a peaceful yet exciting time, you can plan for Norfolk Island holidays or a getaway to some nearby island for a secluded experience. Plan your solo trip well in advance and try to follow all the safety tips for traveling alone without fail.
Listed below are some helpful solo female travel safety tips to help you have a safe, stress-free journey:
Travel Light
One of the most important things to keep in mind while travelling solo is to travel light. The lighter you travel, the lesser things you'll have to worry about, and you'll feel safer. Minimize the number of items you carry for a solo female trip. Pack only the most valuable things you think you'll need and leave out all the rest. Make the list of things you need the most, and try packing them first. This list usually includes your mobile phone charger, taser gun or safety device, earphones, some stationaries, your ID proofs, and other essential documents.
Try to minimize the amount of clothing you pack, as you can buy new clothes from local stores anytime. By choosing only essential clothing, you will be able to save space in your luggage. Avoid carrying unnecessary things that you are sure you can get them on the go or at your destination. Traveling light is a great way to enjoy your solo trips.
Mixing and Matching the Accommodation
In addition to solo female travel, female travelers can mix and match accommodation while traveling to avoid being in a lonely or unsafe room. Female travelers should choose hostels with a 24-hour front desk or a reliable holiday apartment. The best option is to book your accommodation in advance if traveling alone. Grab business cards of the accommodation or contact details of your accommodation providers for any emergency.
Also Read: Travel guest post
Booking your accommodations in advance is undoubtedly one of the valuable safety tips for traveling alone. If you feel unsafe traveling alone or on your first solo journey, you can go for female-only accommodations or stay at holiday apartments managed by a trustworthy family. They often are very kind and helpful to solo travelers.
Socialize with Other Women
Traveling to a new place that you can enjoy on your own is a great idea! Just make sure to stay away from places where you're lonely. You're a much better candidate to meet other women on your trip as a woman. You can even take advantage of this stereotype by making friends and socializing with fellow solo female travelers. Once you arrive at your destination, you can visit some good restaurants or public places and try making new friends there.
If you are looking for solo female travel safety tips, try connecting with other solo female travelers on social media. Join discussion groups and try following solo travel blogs for the latest traveling trends. They can help you out with helpful advice and suggestions that you can use to make your solo travel experience safer and more memorable.
Joining a Group Trip
If you're a solo female traveler, you might consider joining a group trip. These trips give you a network of like-minded travelers, but they also provide a sense of sisterhood. Moreover, these groups share their travel experiences with other female travelers, making them an invaluable resource. You can find the group you want by joining one on Facebook or Instagram. Traveling with other solo travelers to a common destination is a great thing to experience.
There are many global communities online for solo women travelers. This is an excellent way to make new travel buddies and gain insights into the place you are visiting and its culture. This also allows you to know people from different backgrounds and understand their culture in depth. Traveling alone can often be an insightful experience for you.
Safety Must Be Your Priority
Aside from the basic safety guidelines, there are also specific guidelines for solo female travelers. Always be aware of your surroundings and avoid walking alone in dark alleys and areas where you don't see anyone. Don't drink alone, and don't leave your purse or drink in a public place. While traveling alone, you should also stay alert and try to interact with locals and recent travelers. A female traveler with an allergic reaction to stinging insects should also be extra vigilant.
Know all the possible safety tips for traveling alone before planning your gateway. Do some research about your destination, and share your contact details, accommodation details, and other helpful information with your family or friends in case of any emergency. You will never regret being prepared.
Purchasing Travel Insurance
Irrespective of your destination, it's essential to purchase travel insurance before you travel. Purchasing insurance for solo female travelers is recommended when you make your transportation and accommodation reservations. This way, you can enjoy more benefits from the policy. Check the policy details, including the small print, for any exclusions, such as what happens if you get sick while abroad.
Travel insurance is essential because many people save up for their holidays or getaways but may find it challenging to pay for lost items or other inconveniences. A loss or damage of valuable possessions can be a nightmare, and you'll have to spend a lot more on a new bag, cosmetics, or a pair of shoes. Getting a travel policy is undoubtedly one of the most helpful safety tips for traveling alone.
Key Takeaways
While solo female travel is an empowering, rewarding, and safe experience, you can always take some calculated risks and explore new things. Use this time to express your emotions by journaling, vlogging, or blogging. Whatever works best for you. And remember to have fun while traveling solo. If you enjoy exploring new places and meeting new people, it will be worth it in the long run. So don't let anyone get in the way. Just make sure to have fun! Your time is valuable, and your travel experience will be enriched!
Try to get the most out of your independent travel experiences and give yourself a chance to explore the new and unknown world on your own. Even if you feel that traveling alone is scary, remember that it can be life-changing if you plan correctly. If you're a woman who's a bit nervous about traveling alone, ask for advice from other female travelers and have a plan in mind for what to expect when you get there.
AUTHOR BIO:
Nancy Canavesi works as a Senior Travel Consultant at Channers on Norfolk. Being a travel enthusiast, she loves to write and blog about travel-related topics. Channers on Norfolk offers holiday apartments on Norfolk Island with various options. It is situated within walking distance of restaurants, cafes, and shops.