Visiting Scotland this 2022? If you're seeking a picturesque destination with a thriving cultural scene that's worth exploring, look no further: Glasgow, Scotland's largest city, is a treasure trove of wonderful experiences. 
Located on the breathtaking River Clyde, Glasgow is Scotland's top cultural center famed for its striking Victorian and art nouveau architecture. A wide array of museums, galleries, festivals, theatres, and music venues are dotted all throughout the city to keep you entertained. Glasgow is also home to 70 tranquil parks and open spaces that change colours as the seasons shift. 
Next to listing down your must-visit places and activities, another important factor to consider would be: where to lodge in Glasgow? 
Travelling on a budget? Visiting the city as a family with kids? Looking for a place that gives off a warm, local vibe? Glasgow has different accommodation properties that suit the needs and preferences of every traveller. From backpacker hostels to luxury guesthouses, we'll uncover 5 accommodation options to consider when visiting Scotland's energetic cultural hub. 
1. Hostels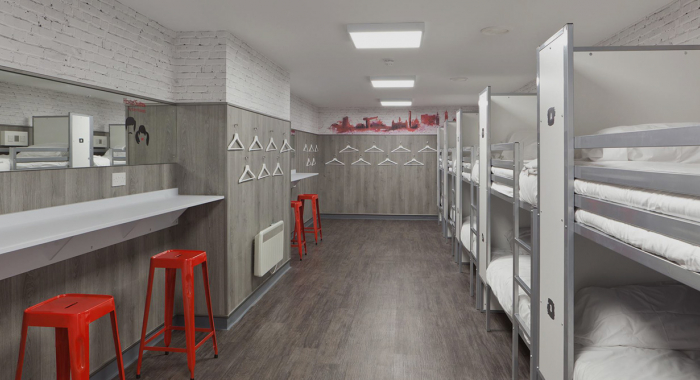 Gone are the days when hostels were infamous for cramped rooms full of bunk beds and noisy backpackers. Hostels have evolved from ultra-cheap accommodation to an attractive alternative to hotels. 
In Glasgow, you can find an excellent spread of hostels across the city centre and the wider regions for your cultural city break. Aside from hostels with shared rooms and dorm peds (for backpackers who'd like to socialise), you can also find hostels that offer private rooms. Some might even have a few extra luxuries, like WiFi and TVs. 
Hostels are perfect for you if:
You're on a tight budget

You simply want a comfortable bed and room to lodge after spending the day exploring the city 

Sharing the space with tourists is no big deal

You love socialising with fellow travellers from all across the globe 
2. Budget hotels
Are you travelling on a budget? While hotels are notorious for their expensive rates, don't close your doors to hotel accommodation yet! In Glasgow, you can find a wide array of low-priced hotels that'll suit your budget.
With hotels, you can enjoy great facilities that'll give you a memorable city break in Scotland's largest city. These include air conditioning, a swimming pool, room with a view and ensuite bathroom, room service, gym, and parking. You can find budget hotels in the heart of the city or on the outskirts that are just a short bus ride away from the city centre and towns. 
Budget hotels are perfect for you if:
You're looking for cheap yet comfortable accommodation with great amenities

You don't mind possible tiny imperfections, like small rooms, noise, and faulty appliances

You're travelling for short-term
3. Mid-range hotels/ Boutique hotels
Planning to take your hotel accommodation up a notch? Consider booking mid-range hotels. Glasgow has a wealth of boutique hotels and accommodation properties housed in historic buildings. 
Upgrading to a mid-range, family-friendly hotel is also ideal for travelling with kids. These properties are complete with amenities, services, and activities that'll make your Glasgow family vacation more memorable. 
Mid-range hotels are perfect for you if:
You want a centrally-located accommodation

A big chunk of your vacation period will be spent on accommodation (including dining experiences, swimming, and activities)

You're looking for utmost comfort, relaxation. and prestige for your city break
4. Serviced Apartments 
Speaking of a family vacation, why not book an accommodation that combines the luxury of hotel accommodation and the comfort of home? We're talking about serviced apartments in Glasgow, which are professionally-operated apartments for short-term or long-term stays. Unlike standard hotel rooms, serviced apartments are generally more spacious and fully furnished.
These self-contained accommodation properties are complete with a living room, bedroom/s, bathroom, dining space, and fully-equipped kitchen — just like a real home. The only difference between serviced apartments and vacation rentals is they come with hotel-like amenities and services. These include but are not limited to housekeeping, reception, 24/7 security, fitness centres, and consistently high-quality beds. 
Serviced apartments are perfect for you if:
You're travelling with a group

You're looking for modern accommodation that's more spacious than hotels

You want home-like property but you're seeking the convenience and luxury of hotel accommodation (housekeeping, reception, room service, amenities)

You'd love to have the option of cooking your own meals
5. Self-catering properties
Self-catering properties are perfect for group travellers and guests seeking long-term stays. Unlike hotels, self-catering properties have that "home away from home" ambiance. They offer you a sole occupancy unit of one or more bedrooms or even an entire house, complete with cooking facilities, dining spaces, and laundry areas. 
From stylish apartments in urban areas to country houses, villas, and cottages that are close to nature, you can find a plethora of self-catering accommodation that suits your fancy. Aside from providing more space and privacy, they also allow you to cut your spending on food. Since you have your own kitchen, you can simply do your grocery shopping and prepare healthy meals for yourself and your companions.
Self-catering accommodation is perfect for you if:
You're travelling with a group

You're staying for long-term

You don't mind cooking your own food or doing the laundry

You're seeking extra space and privacy
Author Bio: Carmina Natividad is a free-spirited writer who loves exploring the great outdoors. She loves traveling, eating, taking food and streetscape photographs, and simply enjoying new experiences and writing about them. To know more about hotels and travel blogs, you may visit PREMIER SUITES Glasgow Bath St.